ACS MediExpress
ACS cares about taking care of your health.
Now ACS brings the medicines you need at your home, with the speed, safety and convenience you deserve.
Forget the hassle and the endless queues at EOPYY (Greek National Health Service Organization) pharmacies!
ACSMediExpress – Medicine at Home. Now, you can pick up the medicines you need from the pharmacies of EOPYY easily and quickly, without waiting in queues, but also with the safety provided by the special ACSMediExpress – Medicine at Home service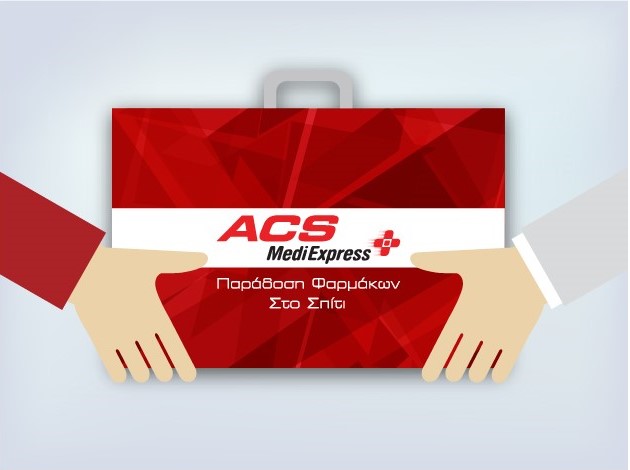 How do you benefit?
No more waiting in long queues at EOPYY pharmacies.
Immediate home delivery, with safety, consistency and discretion, in a special package that is transported at the appropriate temperature by ACS.
Convenience and ease, as all you have to do is validate the authorization granted to ACS. Everything else is done without having to leave your home, following the instructions we will give you by phone.
What does it include?
The ACSMediExpress – Medicine at Home service includes:
Collection of the necessary supporting documents from the patient's address by ACS, after the phone order given to us by the patient.
Collection of the medicine from the EOPYY pharmacy by ACS and then the same day delivery of the medicine and the supporting documents to the patient.
Immediate telephone support of the patient at all stages of the order.
When will you receive the medicines?
For better planning, the patient should estimate that he / she will receive the medicine on 3 working days from the moment he /she calls us, to inform that the supporting documents for their receipt from ACS are ready (and considering that the supporting documents have no omissions or errors).
How safe is the medicine's transport?
For this service, ACS has been one of the courier companies certified by EOPYY (Greek National Health Service Organisation) since 2017 and complies with all courier requirements, with the use of special packaging for safe medical transport and under the appropriate conditions for each medicine.
Learn more!
To learn more information, call at 216-0709380.
With the ACS MediExpress - Medicine at Home service we bring the medicines to your place easily, safely and without waiting!